Aaron Copland: The Music Within – with Adam Sherkin
October 10, 2019 @ 7:00 pm

-

10:00 pm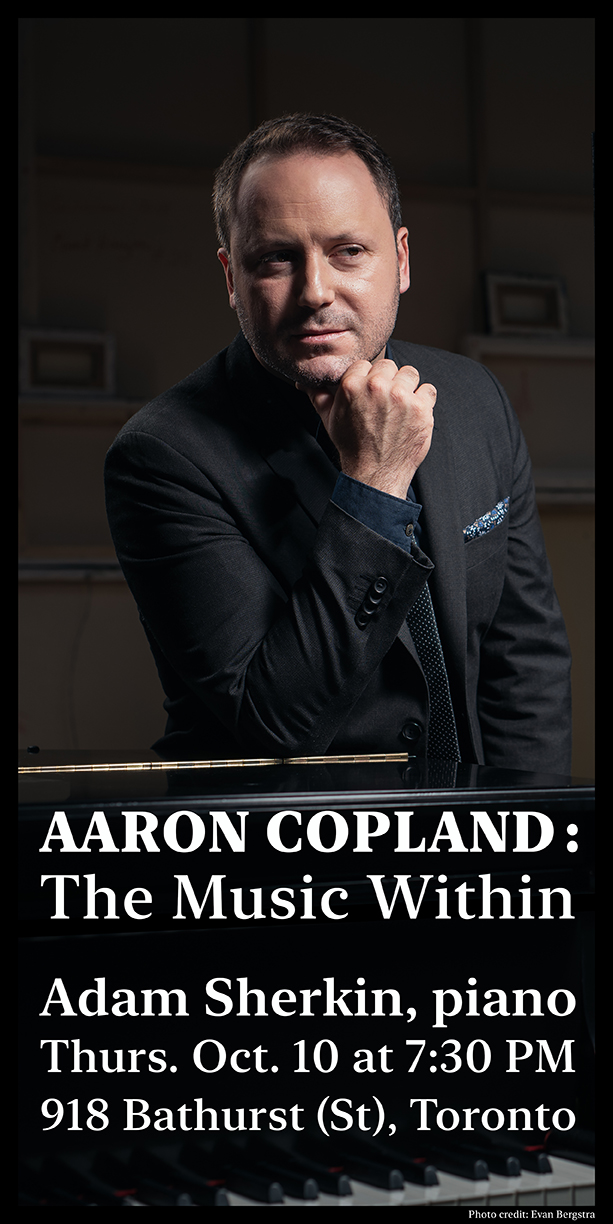 Join Adam Sherkin on October 10th in Toronto for this unique performance event! The recital is part of a Copland tour that includes stops in Buffalo, Toronto and New York City.
Tickets ($25, $20 & $15): https://www.universe.com/events/aaron-copland-the-music-within-tickets-K379J0
THE STORY: Aaron Copland was a fine pianist. In 1926, he premiered his own "Jazz" piano concerto. Continuing to write for the instrument throughout his career, Copland turned increasingly to other pianists for interpretation. On October 25th, 1957, William Masselos gave the premiere performance of the composer's PIANO FANTASY at The Juilliard School in New York City. Masselos played the fantasy twice, punctuated by a short intermission. Originally subtitled 'The Music Within,' the Fantasy remained close to Copland's heart throughout his life. To commemorate the 62nd anniversary of its premiere, Adam Sherkin presents a re-creation of the 1957 performance, including world premiers of his own music, commissioned especially for the occasion: a prelude, "The Music Within" and a postlude, "The Music Beyond."
THE SHOW: Tickets are available on this platform or at the door (same price). Wine and beer will be available for purchase and a short, 20-minute, intermission will punctuate the performances of the Copland Fantasy. Don't miss this excluve recital experience!
THE PROGRAMME: SHERKIN: Prelude The Music Within (2019)*; COPLAND: Piano Fantasy (1955-57) – Intermission – COPLAND: Piano Fantasy (performance repeated); SHERKIN: Postlude The Music Beyond (2019)*
*World premieres
THE VENUE: 918 Bathurst Centre for Culture, Arts, Media and Education is an arts and culture sanctuary in Toronto's Annex Neighbourhood. Learn more at: www.918bathurst.com
Join the conversation on social media! Insatgram: @adamsherkin | @thepianolunaire | #SherkinCopland62 #SherkinPlaysMerkin #SherkinCoplandFantasyTour
Related Events