REINVENTIONS: A Modern Viola Recital – Elizabeth Reid with Stephanie Chua
August 15, 2019 @ 7:30 pm

-

11:00 pm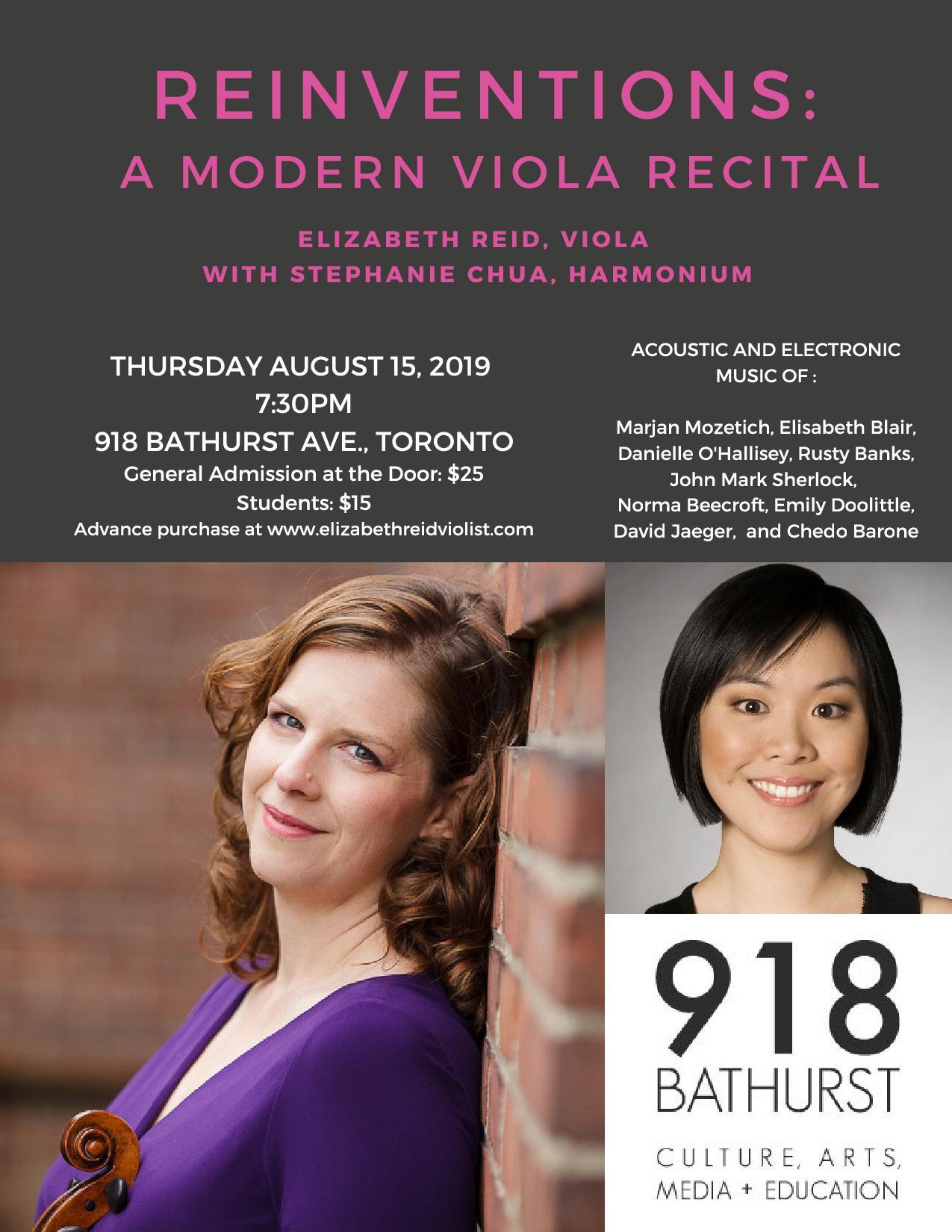 PERFORMANCE
Thursday, August 15, 2019 | 7:30 P.M.
918 Bathurst
Toronto, ON
Tickets at Door: $25 General, $15 Students
REINVENTIONS: A Modern Viola Recital
–
Acoustic and Electronic Music of Mozetich, Blair, O'Hallisey, Sherlock, Doolittle, Beecroft, Jaeger, Barone, and Banks
Elizabeth Reid, viola
With Stephanie Chua, harmonium
Violist Elizabeth Reid is receiving increasing acclaim as a strong and exciting performer of contemporary music, both in Canada and the United States. She has always been passionately interested in exploring and performing the multi-faceted viola repertoire, seamlessly blending between acoustic and electronics genres. Reid brings stylistic open-mindedness to a reimagined and modern viola recital at 918 Bathurst.
This recital will showcase three different experiences, highlighting Canadian and American viola repertoire beginning with unaccompanied acoustic viola music, including  Marjan Mozetich's Survival, Elisabeth Blair's "curfew", and Danielle O'Hallisey's "Study for Solo Viola (with Innocence)."
In the second half of the recital, there will be an eclectic set of viola and electronics repertoire: Emily Doolittle's "Social Sounds from Whales at Night", Norma Beecroft's "Jeu III", David Jaeger's "Sarabande", Chedo Barone's "Prosthetic", and Rusty Banks' "Liquid Fire."
In between these two sets, Stephanie Chua will join Reid to perform Ontario composer John Mark Sherlock's three-movement work for viola and harmonium, "Horses." Chua is one of Canada's leading pianists specializing in contemporary music
Every piece on this program has been selected due to personal significance for Reid. They signify a start to a new musical and career direction for her, a reinvention.