Amici Chamber Ensemble Presents: Ritorna
December 5, 2021 @ 5:00 pm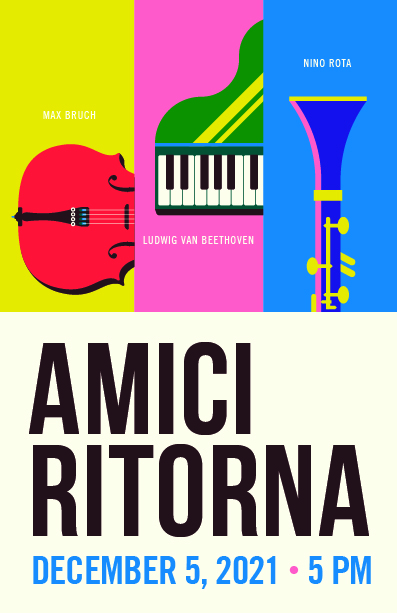 Amici Ritorna features Amici's original trio: clarinet, cello and piano. Three outstanding musicians, and three monumental chamber works featuring the inimitable Joaquin Valdepeñas, David Hetherington and Serouj Kradjian. This intimate concert will be presented at Bathurst 918 Centre for a limited audience.
—–
Program:
Max Bruch – Eight Pieces Op. 83 for clarinet, cello and pinao
Nino Rota – Trio (1973) for clarinet, cello and piano
Ludwig Van Beethoven – Trio in B flat op. 11 for clarinet, cello and piano
—–
Amici Chamber Ensemble:
Considered one of the most distinguished clarinetists of his generation, Toronto Symphony Orchestra Principal Clarinetist Joaquin Valdepeñas makes appearances as a soloist, chamber musician and conductor, at festivals & concert series throughout the world. A prolific recording artist, he is a two-time Juno award winner and GRAMMY®-award nominee.
David Hetherington, for years the assistant principal cellist with the Toronto Symphony Orchestra, performs regularly as a chamber musician as well as working frequently with contemporary music ensembles such as New Music Concerts and Soundstreams Canada. Mr. Hetherington plays his 1695 cello made by Giovanni Grancino of Milan "with rare delicacy and clarity".
Juno-winning and Grammy-nominated pianist and composer Serouj Kradjian is hailed as a "keyboard acrobat" of "crystal virtuosity" by the press. He has established himself as a versatile artist whose readiness to break boundaries and explore different styles has made him an exciting voice on the international music scene. He is regularly invited to appear as soloist and chamber musician in North America and Europe.